Grow your therapy or counselling career with us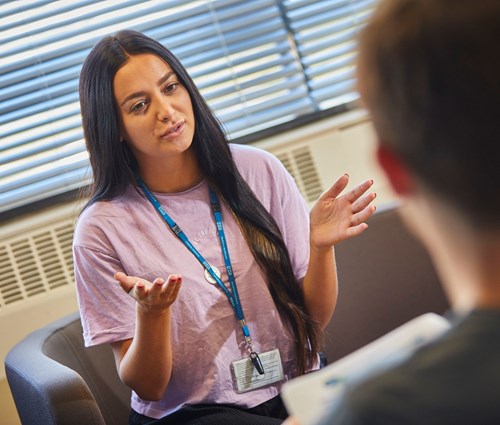 Work with us
We pride ourselves on supporting our staff and helping you to grow your career with us.
How we're different
We were one of the first NHS Talking Therapies services to launch in England back in 2008. Being in this first wave has allowed us to become very well established and benefit from years of innovation at the forefront of research and development in our sector - and building strong links with our local communities.
Grow your psychology career with us
Here are just some of the benefits of working with us as a Psychological Wellbeing Practitioner (PWP).
We are one of the only IAPT services to offer our newly qualified Psychological Wellbeing Practitioners (PWPS) a preceptorship programme for career progression.
We offer yearly training opportunities: for example working with long term health conditions – and recently we were able to offer four of our qualified PWPs the opportunity to get involved with a brand-new social anxiety training programme.
Every year we are lucky to be able to offer supervisor training to qualified PWPs alongside the University of Reading.
Get the opportunity to support engagement with Talking Therapies for people from under-represented groups. e.g. with long term health conditions and those with employment issues alongside our in-house employment support team.
Get experience of facilitating group sessions.
Opportunities to support new staff members and provide supervision.
Research and innovation
We are a leader in digital therapy and have worked closely with SilverCloud Digital Health over many years as a development partner of their online support programmes - which are now widely used across NHS IAPT Talking Therapy services.
We have worked together on various research projects, including pioneering and co-developing the perinatal digital therapy programme which has now been rolled out nationwide.
We also have several partnerships with the University of Oxford and Oxford Academic Health Science Network too.
We were also a pilot service for virtual reality for the treatment of phobias and part of the global extemporal programme-instrumental leaders in digital innovation.
Flexible hybrid working
We support flexible working wherever we can although are currently working a mix of office-based and home/ remote-working at the moment.
You will have an office base in Berkshire and there will be times when you need to attend in person either to see a patient or to attend a team training or event.
Great outcomes for patients
According to the annual reports on NHS Talking Therapies data, we compare well to other services in London and the South East.
Visit the NHS Digital IAPT Data dashboard (opens in new browser tab)
Part of a CQC Outstanding NHS Trust
We are part of Berkshire Healthcare NHS and you will be able to benefit from being part of an organisation which is:
CQC rated Outstanding
A Stonewall Top 100 employer for LGBT+ people
A Global Digital Exemplar – digital health pioneer
Pioneers in compassionate leadership and trauma care ad treatment
Accredited under the Defence Recognition Employer Scheme Awards to Silver level and the Veterans Aware scheme.
A quality service
We are one of a small number of NHS Talking Therapies services in England to be accredited under the Accreditation Programme for Psychological Therapy Services in England (APPTS) from the Royal College of Psychiatrists 
Find out more about APPTS on the Royal College of Psychiatrists website (opens in new browser tab)
 Great NHS benefits
Generous annual leave – reaching 33 days + bank holidays 
NHS pension scheme
Eye tests for screen users – and money towards VDU glasses
Enhanced maternity/paternity and adoption schemes – we already offer this
Employee awards and recognition schemes
Here for your emotional wellbeing too
Providing therapy and counselling can be incredibly rewarding but also very emotional work. We have our own programme of staff support to help you feel as supported in your role as possible.
Extensive Employee Assistance Programme which includes independent counselling, legal advice and many other benefits
A local health and care staff-only Wellbeing Service
Staff occupational health, physio and counselling services 
Local initiatives within our service including a staff forum, reflective practice spaces plus wellbeing and mindfulness sessions
Read more about our staff benefits on the Berkshire Healthcare website (opens in new tab)
Get inspired by our staff stories
Read about five of our team members stories, what inspired them to get into a psychology career with NHS Talking Therapies (opens in new browser tab)
Search our current job opportunities
Search our vacancies on the Berkshire Healthcare NHS Foundation Trust website
Visit the Berkshire Healthcare website (opens in new browser tab)