Our course can help you overcome the effects of stress in your life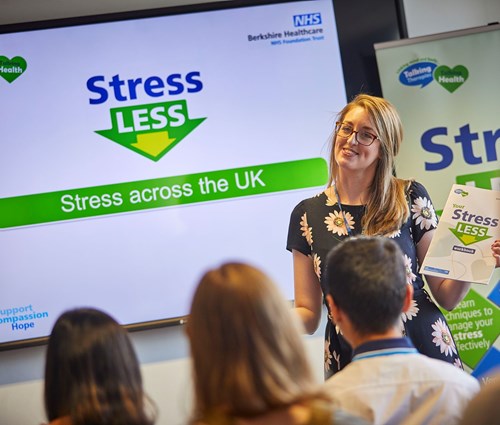 Stress Less video workshops
We're not currently taking bookings for our Stress Less video courses. We have a range of treatment options for stress. Please complete our online referral form to book your wellbeing assessment with us.
Our four week video course will cover different ways you can manage stress, and difficulties linked to stress such as anxiety, worry, low self-confidence, poor sleep and panic attacks
After each video session, you'll be encouraged to go away and try the techniques learnt in your day to day life. At the end of the four weeks you'll be much better prepared to handle stress, and the things that cause you stress.
There will be eight videos in total lasting approximately 20 – 30 mins. Each session will be made up of two videos which will be sent by email prior to the session.
You will also be given access to a Stress Less workbook and activity materials to follow and complete alongside and in between sessions.
Course documents
We'll send your workbook by email, along with the link to the right video.
As well as our workshops, there's others activities you can do to help you relax your mind and body.
Progressive Muscle Relaxation (PMR) exercises can help you become aware of your stress and how it affects your body.
Through the audio exercises, you can learn how to spot the early signs, and learn the skills to ease your stress.
We recommend trying the extended exercise first, and moving on to the brief exercise as you become more familiar and confident. We've found it can help if you play the two recordings in a quiet room away from distractions, where you can sit comfortably.
Please don't do these exercises while driving.
You might need to practice the technique for a few weeks before you feel the benefits.
If you have a physical health issue, such as back problems, we advise you speak to your GP before you begin.
Start the Stress Less Relaxation Brief Exercise audio clip
Start the Stress Less Relaxation Extended Exercise audio clip
If you feel that you need further support, you can ask your GP to refer you to NHS Talking Therapies. We'll offer a Wellbeing Assessment, and offer the right therapy support to suit you.
 You can also refer yourself to NHS Talking Therapies for a Wellbeing Assessment, and find self-help guides if you want to know more about managing things like depression and stress.