Managing the impact of a long-term physical health condition on your wellbeing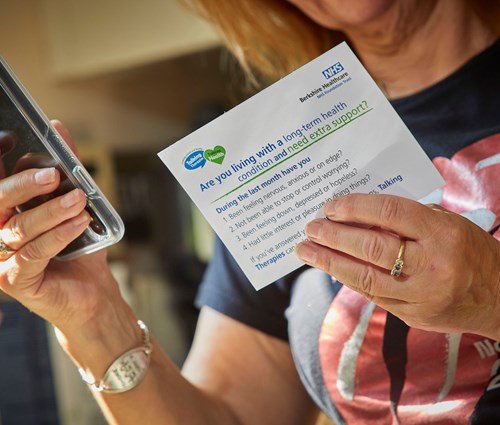 Wellbeing and your physical health
We know that living with a long-term condition, such as Type 2 diabetes or a heart or lung condition, can make your day to day life a bit more challenging.
This may affect your mood and overall wellbeing to the point that a vicious cycle develops: your physical health problems may make you feel stressed and low, which then makes you feel unwell or makes your existing condition feel worse.
Research shows that 66% of people with a long-term physical health condition also feel low or worried.
We work with people with many physical health conditions, such as: 
Allergies
Autoimmune disorders such as Rheumatoid Arthritis or Lupus
Cancer
Diabetes
Digestive problems e.g. irritable bowel syndrome or coeliac disease
Heart disease or heart failure
Kidney disease
Long Covid
Respiratory conditions such as asthma and chronic obstructive pulmonary disease (COPD), 
Stroke and neurological disease e.g. epilepsy or Parkinson's disease
We can also support you if your condition doesn't have a formal diagnosis but is still affecting your wellbeing such as:
Persistent physical symptoms (also known as medically unexplained symptoms or MUS)
Chronic fatigue
Chronic pain
These rare just a selection of the conditions we can support, if your condition is not listed here, please still get in touch to discuss the help we can offer you.
Depending on your needs, we can support you in different ways.
SilverCloud
Our online therapy system SilverCloud has many courses offering guidance if you're experiencing low mood and anxiety caused by your long-term condition, including:
Space for diabetes wellbeing
Space from coronary heart disease
Space from chronic obstructive pulmonary disease 
You can use SilverCloud at any time – at home, work, on your laptop, mobile or tablet device. Our team can also support you if you have any questions.
To access SilverCloud, complete the registration form. We'll review your request and confirm your access.
If we think you would benefit from using SilverCloud, our team will contact you within five working days to book you into a welcome call with a therapist. We'll then send you the invite to join the online programme.
We may also suggest other types of support 
Guided self-help
We can talk to you about tools and techniques you can use to improve your mood. 
Stress Less Workshops
Our four week course designed to help you prepare for, and overcome the effects of stress in your life. 
Peer-led groups in the East Berkshire
HealthMakers offer a six-week self-management course to help you manage your long-term health condition.
Find out more about Berkshire Healthcare HealthMakers (visit the service webpage)
Cognitive Behavioural Therapy (CBT)
Explores the thoughts, feelings and behaviours that you may have which can contribute to mental health difficulties such as anxiety, depression or stress.
Counselling for Depression
Counselling for depression can look at how the emotions you feel when you're depressed can cause you to have low self-esteem, and be too self-critical.
Mindfulness-Based Cognitive Therapy for Depression (MBCT)
Our eight-week course to help you prevent a relapse with depression
Access to this type of therapy will depend on your needs.
If you feel that you need support, you can ask your GP to refer you to Talking Therapies. We'll offer a Wellbeing Assessment and offer the right therapy support to suit you.
You can also refer yourself to Talking Therapies for a Wellbeing Assessment and find self-help guides if you want to know more about managing things like depression and stress.
Find out how to refer yourself to Talking Therapies (visit the webpage)