How your thoughts, feelings and behaviours may contribute to mental health difficulties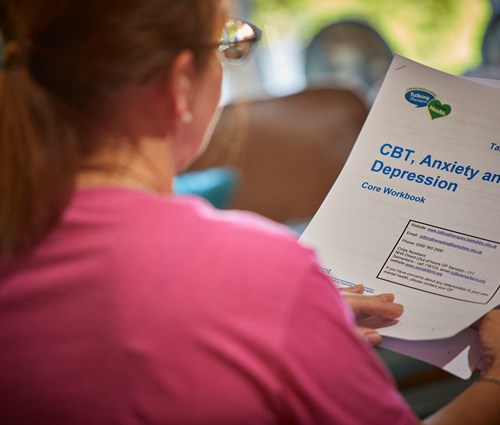 Cognitive Behavioural Therapy (CBT)
Cognitive Behavioural Therapy (CBT) explores the thoughts, feelings and behaviours that you may have which can contribute to mental health difficulties such as anxiety, depression or stress.
Breaking things down into smaller parts can reduce the sense of feeling overwhelmed, and help you make changes to improve your wellbeing. 
It's a highly practical approach, more active than other forms of therapy, and much more time is dedicated to learning and practicing skills. For example, we may ask you to record a thought diary, to help us understand the types of feelings you have in certain situations.
The length of treatment will depend on your needs, and the type of difficulties you're having. It may take a bit of time getting used to thinking and recording your thoughts, but we kindly ask that if you're offered CBT that you commit to following the activities when you're at home.
Research has shown CBT to be an effective therapy in treating things like depression and anxiety as well as phobias, obsessive compulsive disorder (OCD) and trauma. 
Access to this type of therapy will depend on your needs.
If you feel that you need support, you can ask your GP to refer you to Talking Therapies. We'll offer a Wellbeing Assessment and offer the right therapy support to suit you.
You can also refer yourself to Talking Therapies for a Wellbeing Assessment and find self-help guides if you want to know more about managing things like depression and stress.
Find out how to refer yourself to Talking Therapies (visit the webpage)