Manage and overcome your stress, panic, anxiety and lack of motivation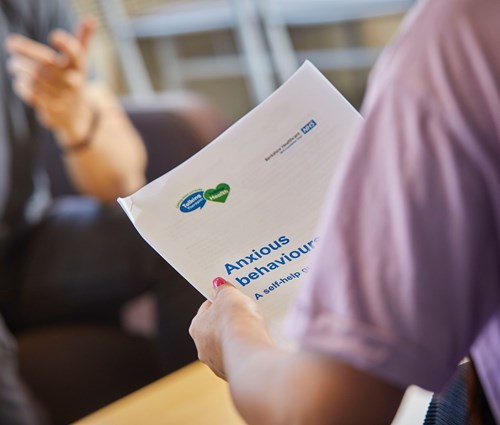 Guided self-help
After your Wellbeing Assessment, our therapist will provide you with some workbooks. These will explain the different tools and techniques you can use for things like improving your mood.
Guided self-help may also help if you're having difficulty with stress, panic, anxiety or lack of motivation. 
Between your sessions you will be asked to follow a new section in your workbook and you will usually be asked to follow tasks and activities at home - such as a food or activity diary, setting goals and tasks, meditation or watching a video.
Your therapist will arrange regular call sessions with you, and talk through what you've been learning.
They'll also set goals with you, and keep track of your progress. You can carry on with the learning activities at your own pace, and practice the different techniques in a space you feel most comfortable, such as your own home.
You can see an example workbook, to give you an idea of what to expect.
What is CBT?
 Our guided self help workbooks are based on the principles of Cognitive Behavioural Therapy (CBT). Watch this 1 minute video from the BABCP (the organisation that leads on this therapy in the UK), narrated by Jo Brand, to find out more:
Access to this type of therapy will depend on your needs.
If you feel that you need support, you can ask your GP to refer you to NHS Talking Therapies. We'll offer a Wellbeing Assessment and offer the right therapy support to suit you.
You can also refer yourself to NHS Talking Therapies for a Wellbeing Assessment and find self-help guides if you want to know more about managing things like depression and stress.
Find out how to refer yourself to NHS Berkshire Talking Therapies (visit the webpage)