Our course can help you understand, prepare for and overcome the effects of stress in your life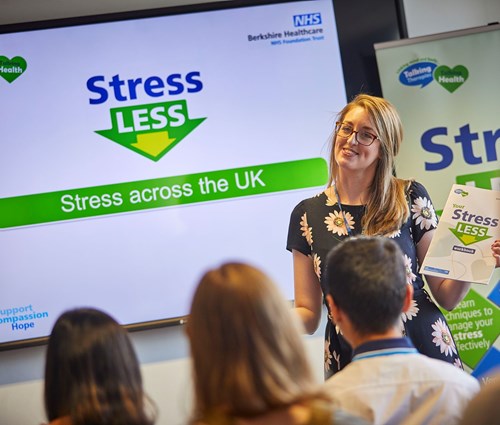 Stress Less workshops
The course is split into four sessions. There's one session per week, for four weeks, and each session will typically last about 90 minutes.
Each week we cover different ways you can manage stress, and difficulties linked to stress such as anxiety, worry, low self-confidence, poor sleep and panic attacks. 
Two of our therapists will guide the session, and focus on a new skill or coping strategy each week.
After each session, you'll be encouraged to go away and try these new techniques in your normal day to day life. At the end of the four weeks you'll be much better prepared to handle stress, and the things that cause you stress.
Our workshops are provided in groups, but this is not group therapy. Instead, we encourage participants to share their view on different topics, such as what might cause or help ease stress.
They're open to everyone so there's no need to be referred to us, and you're welcome to bring a friend or a family members along for support.
As well as our workshops, there's others activities you can do to help you relax your mind and body.
Progressive Muscle Relaxation (PMR) exercises can help you become aware of your stress and how it affects your body.
Through the audio exercises, you can learn how to spot the early signs, and learn the skills to ease your stress.
We recommend trying the extended exercise first, and moving on to the brief exercise as you become more familiar and confident. We've found it can help if you play the two recordings in a quiet room away from distractions, where you can sit comfortably.
Please don't do these exercises while driving.
You might need to practice the technique for a few weeks before you feel the benefits.
If you have a physical health issue, such as back problems, we advise you speak to your GP before you begin.
Start the Stress Less Relaxation Brief Exercise audio clip
Start the Stress Less Relaxation Extended Exercise audio clip
If you feel that you need further support, you can ask your GP to refer you to Talking Therapies. We'll offer a Wellbeing Assessment, and offer the right therapy support to suit you.
 You can also refer yourself to Talking Therapies for a Wellbeing Assessment, and find self-help guides if you want to know more about managing things like depression and stress.