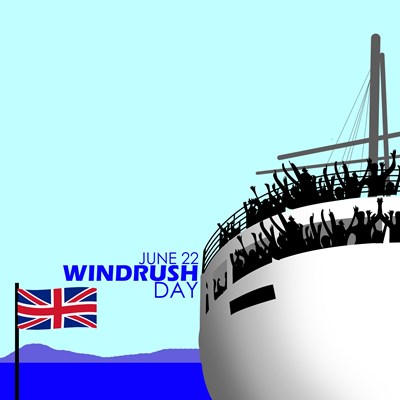 Windrush Day is about celebrating the contribution of people from across Black British society and also recognising where inequalities still exist and where we can do better.
Dr Tanisha Douglas, a Psychological Wellbeing Practitioner Team Lead, describes why marking Windrush Day matters to us at NHS Talking Therapies Berkshire and what we're doing to help tackle health inequalities:
What is Windrush Day?
On 22nd June 1948, the first ship known as Empire Windrush docked in Tilbury Docks, Essex, carrying the first of what we now call the Windrush Generation.
This was a generation of people from the Caribbean who had responded to a call for help from the UK to rebuild the economy, and build a future for themselves and their families after the second World War.
This generation supported British society, working in key industries including transport, manufacturing, construction postal services and nursing – just as the NHS was about to launch. The arrival of the Windrush generation also shaped the Black British society that we see today bringing their influence of food, language, literature, culture and music.
However, not all experiences were positive. Many people were faced with discrimination, struggling to find work, equal pay, and accommodation. Racism was also experienced in daily lives and through race riots people were attacked on the streets and their homes were smashed into and burnt.
How we're working to support people from diverse backgrounds
Seventy-four years on, Windrush Day gives an opportunity to reflect on just how far the society has come since then - and what else we can also do.
Within the last year alone, the NHS Talking Therapies Berkshire has introduced to help improve the lives of patients in Berkshire, and reduce health inequalities particularly for those from culturally and ethnically diverse backgrounds.
People from Culturally and ethnically diverse backgrounds are still under-represented in NHS IAPT services but this is starting to change thanks to recent efforts. Some of our recent initiatives to help people access our support include:
Increasing access to health questionnaires in other languages
Developing culturally adapted and multilingual treatment resources
Outreach events and clinics to help increase understanding of therapy
Supporting our therapists to have more culturally inclusive conversations with patients
This is building on support we have already been offering such as:
Interpreter services, offering over 50 languages
Appointment flexibility around cultural holidays/ events / observances
We're committed to doing all we can to support our local communities from all backgrounds to access NHS Talking Therapies.
Find out more
Read our Therapy in Focus blog I'm from a culturally and ethnically diverse background is therapy for me