I am from a culturally diverse background. Is therapy really for me?
"We all experience times in life when things feel like they are weighing us down and we feel low, stressed, numb or really worried. Sometimes the signs aren't obvious. You may just notice that you're struggling with sleep, a change in your appetite or you're simply lacking in motivation. Other times, you may notice more obvious things like a sense of dread, a racing heart rate or a pain in your chest.
"Your wellbeing can be impacted by so many different things; work, relationships, the weather, the pandemic and sometimes…seemingly nothing at all. Talking about how you feel can be really difficult but also really helpful and Talking Therapies can help you notice patterns in your thinking and behaviour and give you practical tools and techniques to cope.
"But in my culture talking therapy is often not seen as being 'for us'. The reasons for that are complex – whether its concerns our experiences, beliefs or expectations won't be understood or even because of concerns about discrimination or confidentiality.
"When people do get help the outcomes can be really positive. Last year Talking Therapies treated over 3,619 people from culturally and ethnically diverse communities, more than half of whom made a full recovery - which is above national targets.
There's a lot we're doing to help improve access to Talking Therapies too.
If you're wondering if therapy is for you, here are four ways we work to understand you and your situation, whatever your background.
1. We're often from diverse backgrounds ourselves
Many of our therapists have diverse cultural experiences - and between us we speak around 30 different languages - so we understand how different values, beliefs and experiences influence how we think or feel.
Having a therapist who has had similar life experiences as you can sometimes put you more at ease and make it feel easier for us to know you and your situation and personalise your treatment, but this isn't always so.
All our therapists are impartial and focus on empowering you to understand, reflect on and change your own situation. We're not here to judge or tell you what to do.
2. We're professional
Sometimes it can be really helpful to speak to friends, family members or other people you know about how you're feeling.
Other times, you may not want to confide in those closest to you or it may be helpful to get professional support.
Our trained practitioners offer evidenced-based tools and strategies to help you improve and maintain your wellbeing so you can get back to the activities you value the most.
3. We're confidential
Everything you say to us stays between you and the Talking Therapies team.
We do not pass on your information to anyone other than updates to the GP and other health professionals that might be helping you.
Your information is saved on our secure database, separate to your medical record, and only disclosed if we are worried about your safety or the safety of others and we would discuss this with you.
We won't share this information with your employer.
4. We can speak your language
If English isn't your first language and you would like support, we can arrange for an interpreter to attend your appointments to support therapy in your chosen language. Please let us know your preferences when you contact us.
We already have letters, leaflets and forms translated into languages commonly spoken in Berkshire such as Urdu, Polish and Punjabi.
Our website, including any leaflets, can be translated into over 100  languages and dialects using the ReachDeck toolbar at the top of this page (on a desktop) or at the bottom if you're viewing this on a phone. We can also arrange for other materials to be translated for you.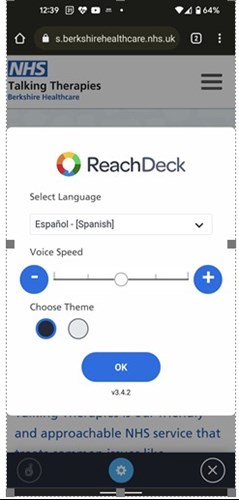 5. We won't diagnosis or judge
We focus on offering strategies to support mental wellbeing rather than offering a diagnosis. This is something only certain specialist doctors can do, such as a psychiatrist. We use questionnaires to understand the symptoms you are experiencing to help us give you the most appropriate course of treatment and to see if your symptoms change during your treatment.
You don't have to suffer alone, reach-out for support.
Find out more