Online therapy whenever or wherever you need it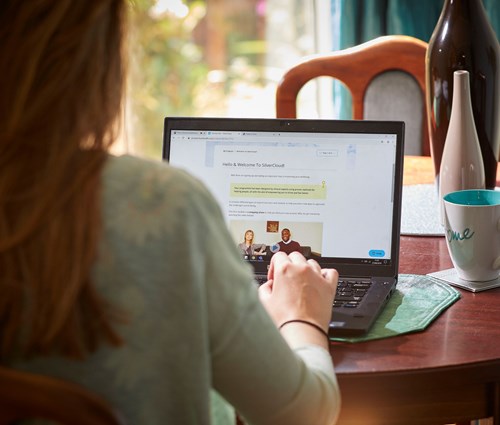 Online CBT with SilverCloud
SilverCloud is our online treatment programme that can be used to help you learn ways to manage low mood and anxiety, improve your sleep and build resilience.
You can access things like video clips, quizzes and case studies all designed to help you boost your mood, and understand your situation.
SilverCloud also has a number of stories from other users, so you can see their experiences of using the treatment and how this may help you.
When you're registered with SilverCloud, we'll put you in touch with your own supporter. The supporter will be one of our therapists, who can guide you through your programme.
You'll have up to six reviews with your supporter approximately every two weeks, where they will monitor your progress on the programme.
You can leave comments for your supporter, who will pick these up at your review. They'll leave comments and suggestions of what might be helpful for you to work on.
You don't need to be online for each review, but the next time you log on after a review, you'll be asked to complete the questionnaires that will help your supporter assess your current mood.
The course may run from anywhere between 6-12 weeks.
Once you have finished your reviews with your supporter, you'll continue to have access to SilverCloud for a further 9 months should you need a recap on the tools and techniques you have learnt.
When you sign up, you can select from six programme options. 
Wellbeing
Space for Sleep
How to improve sleep association, good sleep habits, managing thoughts and worries, and keeping a healthy sleep cycle.
Space for Resilience
Build resilience, improve self-compassion, improve connections with others, your body and mind.  
Long-term condition
Space from Diabetes Wellbeing
Strategies to improve your wellbeing whilst managing diabetes.
Space from Coronary Heart Disease
Strategies to improve your wellbeing whilst managing a heart condition.
Space from Lung Conditions
Strategies to improve your wellbeing whilst managing a Lung Condition. 
Depression and Anxiety
Depression and Anxiety
Learn how to improve your mood and motivation, manage worry, and overcome negative thoughts and sense of fear.
If the type of support you need isn't listed, or you're unsure which one to select, you can contact our team for guidance.
As well as these six programmes, we also offer other courses such as Space from Panic, Space from Stress, Space from Phobia and many more.
We can discuss these with you after your Wellbeing Assessment with our team.
If you would like access to our online programme SilverCloud, simply click the link below and enter a few details and you can start the programme straight away. 
You will be supported via online reviews every couple of weeks, whilst you work your way through the modules. You will have your first review within a few days, where it will explain more about how it all works.
You are able to choose which therapy programme would suit you best.
Sign up now if you think online therapy is right for you!
Sign up to SilverCloud instant access
If at any point yourself or your supporter think that a different treatment option would be better for you then we can arrange this for you.