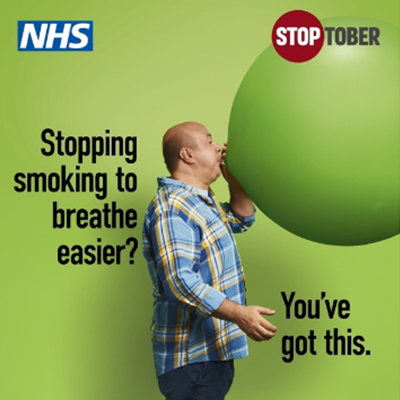 Stoptober is back, calling on smokers in England to join the 2.5 million others who have made a quit attempt with the campaign since it launched a decade ago in 2012. Nearly 6 million adults in England still smoke, and it remains the single biggest behavioural cause of preventable death, with 64,000 deaths a year.
If you're a smoker, quitting is one of the best things you can do for your health, allowing you to start moving better, breathe more easily - and giving you more money to spend.
Quitting with others, together with the range of support offered, means that Stoptober can trigger resolve and boost confidence, motivation and readiness, making smokers realise that they are stronger and better prepared than they think, setting them up for long term success.
Join the thousands of others and start your quitting journey this October.
Search 'Stoptober' for more information and free tools to help you quit. 
Get support from your local quitting services
Contact your GP for support



Smoking while in our hospitals
We're proud to be a smoke free organisation.
Please do not bring tobacco products to our sites. These products will be sent home with a family member or carer on admission.
We can provide support to help you reduce or stop smoking while you're in our care. This includes giving you access to vaping or tobacco replacement treatment to help you quit. You can bring your own vape, which will need to be safety tested before use. Ask a member of staff where you're permitted to vape.
Find out more 
Read more about our commitment to be a smoke free organisation (opens new browser tab)