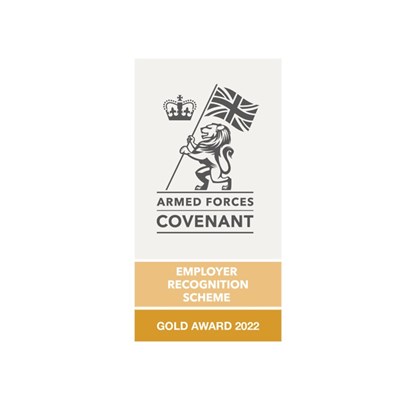 Berkshire Healthcare is one of only 16 organisations across the South East of England to receive the Employer Recognition Scheme Gold Award this week, the highest level of accreditation bestowed by the Ministry of Defence.
We received the award in July 2022. The awards recognise the support provided to all those with a connection to the Armed Forces including reservists, veterans, cadet force adult volunteers and spouses/partners.
To be considered for a Gold Award, organisations must provide ten extra days leave for Reservists and have in place supportive HR policies for employees who are veterans, Reservists, and cadet force adult volunteers, as well as spouses and partners of those serving in the Armed Forces. In addition, the organisation must be an exemplar within their sector, advocating support to defence people to partner organisations, suppliers and customers with tangible positive results.
Julian Emms, Chief Executive at Berkshire Healthcare NHS Foundation Trust, said:
"We're delighted to be recognised with a Gold award, which reflects our long-term commitment to being a forces-friendly employer. The valuable skills and experience that veterans gain during their time in the forces is a real asset so it's really important to us that we recognise their contribution and give veterans, reservists and their families every opportunity to build a fulfilling career at Berkshire Healthcare NHS Foundation Trust."
In total 643 organisation in the South East have earned a Gold Award since the scheme was launched in 2014, with 156 being awarded in this latest round.
Minister for Defence People Leo Docherty said: 
"Regardless of size, location or sector, employing members of the Armed Forces community is good for businesses. These awards recognise the outstanding support for our Armed Forces from employers across the UK and I would like to thank and congratulate each and every one." 
Find out more
In addition to participating in the Employer Recognition Scheme, we also hold Veterans' Aware accreditation, reflecting its commitment to delivering the best healthcare and support to veterans and their families.
Veterans can get priority treatment for ongoing health issues associated with their time in the military (such as hearing loss, mobility issues or mental health problems). 
Visit our Veterans' Mental Health and Wellbeing Service (Op Courage) service page (opens new browser tab)