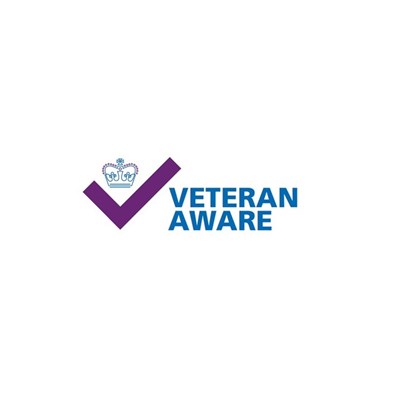 Veterans' Aware accreditation is awarded to reflect an NHS Trust's commitment to deliver the best healthcare and support to veterans and their families.
We've volunteered to sign-up a series of pledges and submitted evidence to the Veterans Covenant Healthcare Alliance (VCHA) to show how we're currently meeting them.
These pledges include:
Identifying veterans to make sure they receive appropriate care and refer to relevant services
Training and educating our staff on the needs of veterans
Supporting the armed forces community as an employer
Having a clearly designated a senior lead for veterans (also known as a Veterans Champion Dyad)
If you or your spouse or partner has ever served in the armed forces, please let us know so we can help you get the care you need, including any veteran specific services that could help.
Veterans can get priority treatment for ongoing health issues associated with their time in the military (such as hearing loss, mobility issues or mental health problems). However this is based on clinical need and emergency cases or those with a higher clinical need would still need to take priority.
Find out more
Visit our webpage on Supporting Veterans Healthcare
Find out about veterans mental health services in Berkshire, Buckinghamshire, Hampshire and the Isle of Wight and Oxfordshire 
Visit our Op COURAGE NHS Veterans Mental Health and Wellbeing Service webpage 
Find out more about Veterans Aware accreditation
Visit the Veterans Covenant Healthcare Alliance (VCHA) website