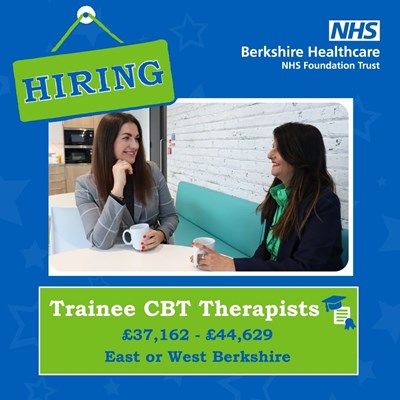 We're excited to be offering several therapy trainee roles this summer, to start in September 2023. Take a look at our current opportunities for you to build your psychology career with us in Berkshire:
Trainee CBT Therapists
Closing date: 4 June 2023
£37,162 to £44,629 a year per annum (including high cost area supplement)
As a trainee you will work within the NHS Berkshire Talking Therapies service providing high intensity interventions whilst undertaking a programme of training for this role.
This intensive training post will equip you to provide a cognitive behavioural therapy (CBT) service to clients with a range of complex problems for which CBT is demonstrated to be clinically effective. You will work in the service for three days of the week using your newly developed skills whilst attending the training programme for the other two days.
Find out more about becoming a CBT Therapist and apply online
Trainee Psychological Wellbeing Practitioners (PWP)
Closing date: 31 May 2023
£26,405 to £28,976 a year per annum (including high cost area supplement)
As a Trainee PWP, you will be providing low intensity interventions using cognitive behavioural therapy for mild to moderate anxiety and depression.
There will be opportunities to support those with long term physical health conditions and those with employment issues, alongside our fantastic employment support team.
On successful completion of the programme, you will be equipped with the knowledge, understanding, skills, attitudes, and behaviours relevant to employment as a qualified Psychological Wellbeing Practitioner within Talking Therapies.
You will be based as an employee within NHS Berkshire Talking Therapies whilst attending the University of Reading, with a mixture of teaching days and service days.
You will be required to undertake and pass the IAPT PWP training provided through the University of Reading and achieve the Postgraduate/Graduate Certificate in Evidence based Psychological Treatments as part of this role. After successful completion of your Psychological Wellbeing Practitioner Qualification, you will be required to apply for your PWP Registration through either the BPS or BABCP.
 Find out more about trainee PWP roles and apply online
Read more about the benefits of working with us